THE ALL-NEW KONA.
#JOINTHEINTREPIDS
Live a life more intrepid.
Kona signals the arrival of a new generation of Hyundai SUV's. A generation that refuses to be bound to a singular way of thinking. Because let's face it, one size doesn't always fit all, and that's what makes the Kona so different. The all-new Hyundai Kona is the small SUV with everything you need to boldly go where only Intrepids dare. It's distinctive in design, powerful in performance, and the perfect size to help you conquer the city streets. In fact, we think it pretty much ticks all the boxes for tackling any urban adventure.
An SUV that's bold inside and out.
It's sleek, easy on the eye, well connected, and with over 17 colour combinations, you'll be able to style it just the way you like it. It's been perfectly designed for your lifestyle with a daring look and equally dynamic interior, this compact SUV will take you from narrow city laneways to winding suburban streets, and will turn heads while doing it. It's a compact SUV, but sit inside and the Kona soon reveals its spacious self. The Kona has far more room than you'd expect – from the generous boot, to the 60/40 folding rear seats, you'll always have space when you need it. You write your own rules, and you go where you want to go.
Thanks to its advanced safety features, the Kona has your back, no matter where you take it. From it's reserving camera to its advanced suite of Hyundai SmartSense safety features explore in confidence from dawn missions to late night exploring. It's well appointed too, with a premium interior including a 7" touchscreen that features Apple Carplay and Android Auto.
Rewrite the rules in the Kona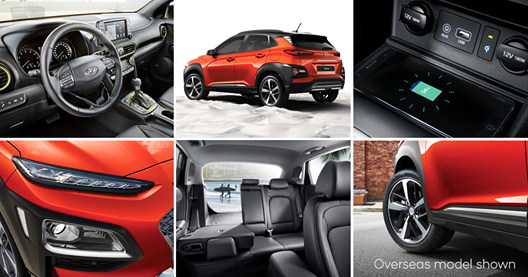 WIN WIN WIN
Be one of the first 20 people to purchase a Kona 
from East Auckland Hyundai and be in the draw to win
a 5-night stay at Kailua-Kona, Hawaii!*